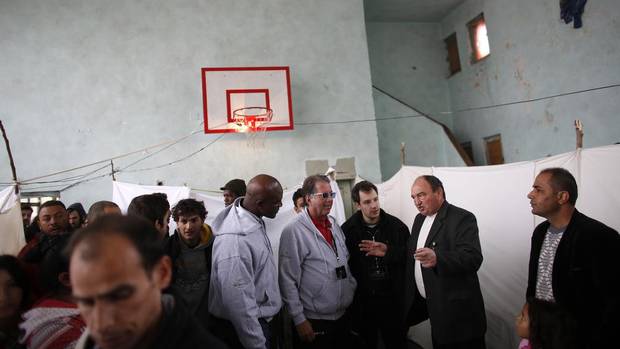 Yank Barry, motivated by past sins, becomes a philanthropist
March 27, 2015
Mr. Barry strode over to the shy teenager, Ali Djilm, and shook his hand. Ali smiled and lifted his black jacket to expose the scar. "Wow," said Mr. Barry with a sympathetic moan. "Poor boy!"
In his life, Mr. Barry has been many things: singer, music producer, sports agent, businessman, drug abuser. Now he is becoming a do-gooder celebrity in Bulgaria, giving sympathy, a home and personal pep talks to dozens of Syrian families who otherwise would be stuck in primitive refugee camps.
"Doing this is a rush for me, like putting out a hit record," said Mr. Barry, whose charitable foundation has rented one suburban Sofia hotel for his new charges and is looking into renting another.
As the Montreal-born businessman describes this latest chapter in his chameleon-like life, he is now clean and making up for past sins by helping the poor and the needy wherever they are through his charity. That involves taking Syrians out of Bulgarian refugee camps, putting them into decent hotels, feeding them and hiring nurses and guards to ensure they are healthy and safe. It also means taking an active role in their lives.
When Mr. Barry is in town, he visits them every day and encourages them to shape up and find jobs so they can integrate into Bulgaria or elsewhere in Europe.
Ali, one of the latest additions, had spent 12 days in the hospital after being stabbed at the refugee camp where he was staying, and was still obviously in pain when Mr. Barry swept up him and his mother and took him to the Oasis Hotel in the Sofia suburb of Bankia.
The Oasis – three storeys, white stucco, black marble floors, apparently 1970s vintage – has 19 rooms where 52 Syrian refugees, 18 of them children, are now living. Mr. Barry said he leased it through his Global Village Champions foundation, a charity whose stated mission is to feed hungry children and whose "goodwill ambassador" is former world boxing champion Evander Holyfield.
Mr. Barry thought the hotel was perfect because it was in a suburb, had a big garden and was surrounded by a high wall. Still, he hired a security guard for fear of further attacks on the refugees. "By putting them in this hotel, we can follow their lives and feel we can make a difference to them," Mr. Barry said during a pit stop at Sofia's Happy Restaurant – a sort of Bulgarian road house – before heading off to the Oasis in another van to check on the Syrians.
Through his foundation, which was created 20 years ago and is funded by the profits from his Vitapro food business, Mr. Barry said he has spent more than $1-million (U.S.) feeding and housing Syrians in Bulgaria since mid-2012. The foundation claims to also have delivered almost a billion meals to the poor and hungry from the Philippines to Britain.
Mr. Barry said he has emotional ties to Eastern Europe – his grandparents came from a Polish town near the Ukrainian border – and admires Bulgaria because it refused to deliver its Jews to Hitler's extermination camps. When Syrians began making their way into Bulgaria to flee their civil war, he felt the need to help them find new lives. He also has a business connection through Vitapro, which has small factories in Bulgaria and elsewhere, whose main product is a "textured" protein, billed as a meat alternative, made from soya.
Mr. Barry says his past sins also motivated him to become a do-gooder. In an earlier life, when he was a cocaine-addled 20-something rocker with a fondness for Montreal mobsters, Mr. Barry was convicted of extorting money from a business partner and sentenced to six years in prison; he ended up serving a year. "I was infatuated with the mob back then," he said. "I wanted to see The Godfather with the godfather."
In 2001, he was convicted of bribery, conspiracy and money laundering in Houston for allegedly bribing the top Texas prison official to ensure that Vitapro was supplied to prison kitchens. The verdict was thrown out in 2008 when the prosecution's main witness was found to be a liar.
During his visit, the Oasis was buzzing with activity. Mr. Barry's American wife, Yvette Barry, 43, had delivered several full van loads of food, ranging from 25-kilogram sacks of flour to four-kg cans of peas. In the kitchen, men were rolling dough to make flatbread while the women were making cakes and hummus from chickpeas.
Outside, Mr. Holyfield, 51, effortlessly scooped up kids into into his still-powerful arms – this was the man who beat Mike Tyson twice in the ring.
Mr . Barry was on a more serious mission. He took aside the Syrian man who had emerged as the house leader, Mohamed Nour Aldin Anter, to explain to him that he was about to leave the country for a few weeks and that the food supplies could not be wasted, nor could the hotel be theirs forever.
"I'm not writing blank cheques," Mr. Barry said, elevating his deep, powerful voice, while sitting across from Mr. Anter on a red vinyl sofa in one of the hotel's two reception areas.
Mr. Anter, who said he fled Syria in June, 2012, ventured that he dreamed of moving to Germany, an idea that launched Mr. Barry into tough-love mode.
"What makes you think German refugee camps are any better than the ones here?" he asked.
And with that, he disappeared from the Oasis.
He had a lot to do before his flight later this week back to one of his homes, in Sarasota, Fla., including a visit to examine an unoccupied 110-room hotel in Sofia that could house hundreds more refugees. "The nightmare here is, what happens if 50,000 refugees come to Bulgaria?" he said.