Nearly 1 billion meals have been delivered to the world's most helpless & innocent. Yank continues to work on the front lines in Bulgaria, personally going into unsafe refugee camps to rescue families, then giving them the selfless gifts of health care, education, legal assistance & a safe-haven in one of two Global Village Champion Foundation homes in Bulgaria.
With war & famine raging all around us, Yank Barry has more than successfully given much of his personal wealth for the betterment of human-kind.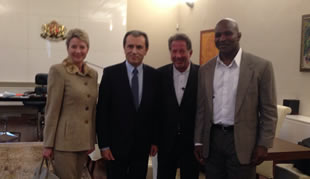 REFUGEES IN BULGARIA
Yank works closely with the President of The State Agency for Refugees in Bulgaria, Mr. Nicolay Chirpanliev, who supports & greatly appreciates his ongoing efforts. Aside from his inherent love of humanity, Yank has personal reasons for his work in Bulgaria. Much of Yank's family was welcomed into the county during WWII, when Jews were fleeing to escape the wrath of Hitler. Because of this, his respect for the country is even stronger, & his willingness unwavering.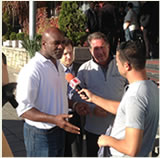 One of the foundation's "Champions", Evander Holyfield, joined Yank on one of his missions to Bulgaria, where he witnessed first-hand, the horrific conditions in the refugee camps, & worked alongside Yank to rescue several families in the fall of 2013. Two of the six "Benghazi Six", one doctor & one nurse, are now living in Sofia, Bulgaria as part of the Global Village Team, offering direct support to Yank's mission & continuing to pay-it-forward.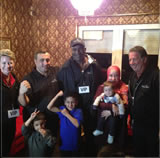 THE PROOF IS MORE THAN CLEAR…
Yank has been recognized for his extraordinary efforts by many world renowned journalists, publications, international news organizations, & well-known public figures. Most recently, Yank was asked to be included in a book in tribute Nelson Mandela because of their like-minded goals & vision for a better world. Regardless, his success is marked by the hugs & smiles from the children with whom he's saved, not by the many prestigious accolades he's received world-wide.
TO DATE…
The world is taking notice, as he's being hailed "The Jewish Schindler" for saving over 1,200 people of different races & religions.