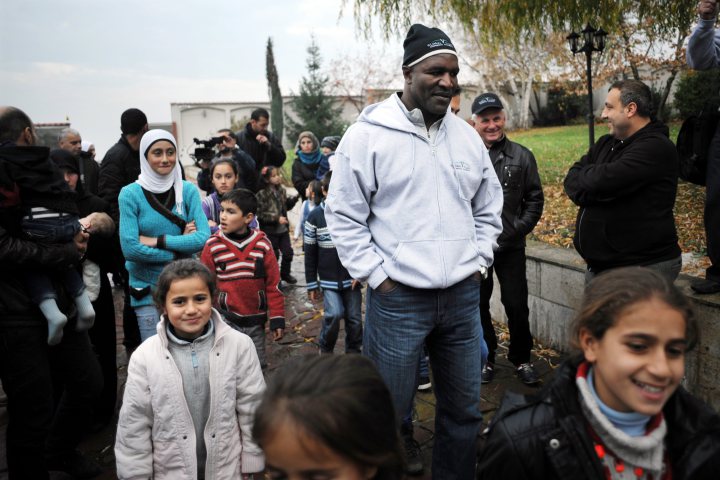 'Jewish Schindler' Taps Boxing Legend Evander Holyfield to Help Syrian Refugees
March 27, 2015
Philanthropist Yank Barry has teamed up with four-time heavyweight champion Evander Holyfield to move 50 Syrian refugees out of overcrowded camps and into permanent homes in Bulgaria.
Global Village Champions Foundation, a humanitarian organization which Barry co-founded and Holyfield supports, announced in a press release Wednesday that the group had moved the refugees from camps in Bulgaria to a renovated hotel in the country's capital, Sofia. To help them adapt to their new country, the refugees will also receive free food and lessons in Bulgarian.
Both Barry and Holyfield personally visited the refugee camps in Bulgaria and helped relocate the families. And the effort is just beginning. "I will continue to do as much as I can to help," Barry said.
Barry achieved fame as a member of The Kingsman, best known for its 1963 hit "Louie Louie," and later went on to become a music producer. His philanthropic work has since earned him three nominations for the Nobel Peace Prize. The Jewish multimillionaire has a personal interest in Bulgaria, since two of his cousins fled there during the Nazi Holocaust, the Jerusalem Post notes.
The ongoing civil war in Syria has forced approximately two million people to seek refuge in nearby countries, according to FOX News. Bulgaria, an Eastern European country that borders Turkey, is housing an estimated 6,500 Syrians, many in refugee camps. The camps are overcrowded and refugees often live in squalor.
"The world has not yet realized how big this crisis is," Barry told FOX News.
Barry's aid to Syrian refugees has won him the nickname "Jewish Schindler" from Bulgarian media outlets, according to the Jerusalem Post.