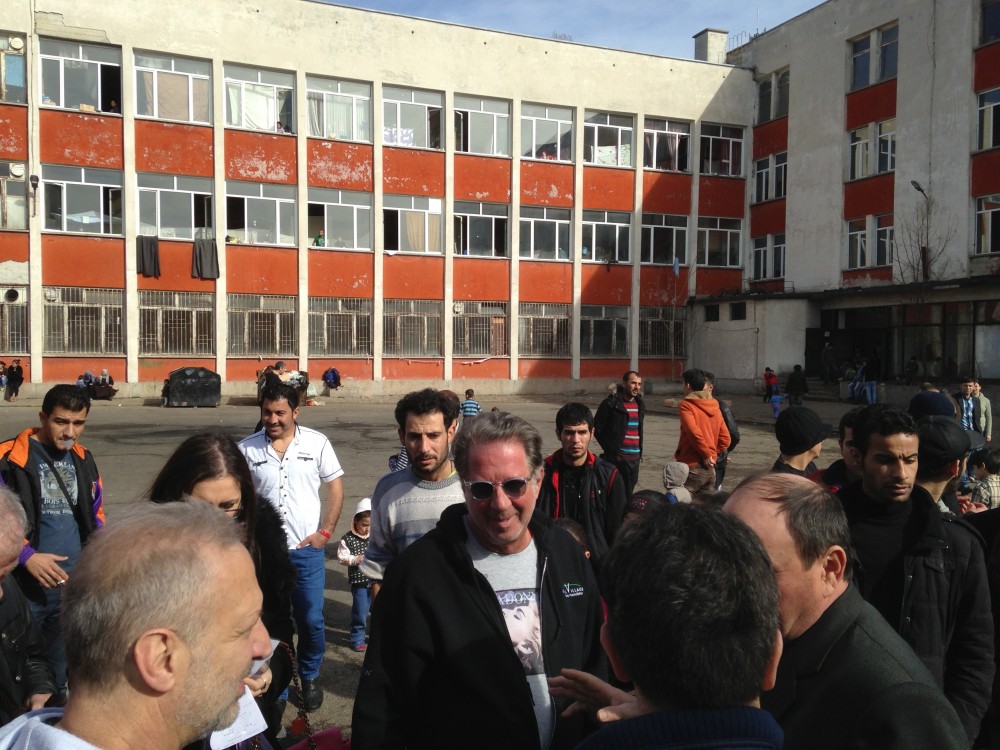 Jewish Schindler rescues Iranian Christians, Syrians and Iraqis
March 27, 2015
In a Skype interview on Wednesday from the outskirts of Sofia ,Bulgaria, Barry told The Jerusalem Post he has provided refuge for 782 people from the Middle East. Most of the refugees are from Syria.
In sign of reciprocity, he said "the Syrian refugees delivered 200,000 liters of water" to Bulgarians affected by flooding and a severe heat wave.
He has spent $3 million on securing two hotels to lodge the residents.
His hotels provide social services, medical care and educational opportunities.
Barry has been in Bulgaria for four months organizing the latest round of permanent housing.
He gained global fame with the band The Kingsmen ("Louie, Louie" song).
Barry runs the prominent international charity Global Village Champions humanitarian organization.
During the Skype interview, Omid Salehi, an Iranian Christian refugee, turned to Barry and said: "He saved my life."
Bulgaria is the first point of European entry for many Middle East refugees escaping wars and persecution. Iranian Christians face widespread persecution in the Islamic Republic of Iran.
Salehi, his two brothers, parents, and cousin fled to Bulgaria because they could not practice their Christian faith in Iran.
The family fled the northeastern city of Esfarayen, which has a population of just over 50,000. Omid's father worked as a driver and mechanic in Esfarayen.
Salehi said Iranian President Hassan Rouhani is not concerned about improving life for the country's struggling Christians.
"All presidents of Iran only think of themselves, about money… Presidents change but the politics stay the same."
George Sabbagh, a Syrian Christian, told the Post "All Syrian Christians should leave."
He said terrorist Jihadi groups are responsible for the persecution of Christians.
Asked about a political solution for the Syrian civil war, he said "It will take a lot of time."
Asked about Israel, Sabbagh said "If anyone could get Assad out,it would be Israel."
Israelis, he added, "are our brothers, never against us."
The Iraqi refugee Nidahal Faraj said she fled because the family was threatened with death for working with the American army.
Faraj, a Sunni Iraqi, said she is "not really happy." She added that under Saddam Hussein there was safety.
She expressed disappointment with Iraqi Prime Minister Nouri al-Maliki.
"We don't like him. He doesn't share with the Iraqi people."
Lheg Youseff Kassem , a Syrian Kurd, said he fled because of the terrorism of the al-Qaida spinoff ISIS.
"They want to kill us and cut off heads," he said.
Kassem said "[US President] Obama can make pressure on all sides to make a solution, to make peace in the country [Syria]."
His five-member family fled to Turkey and then to Bulgaria. He said "the Islamic group is more dangerous than Assad."
Similar to the view of many Syrian Kurds interviewed by the Post, he said: "Israel is like other countries. It has a right to live in peace with other people."