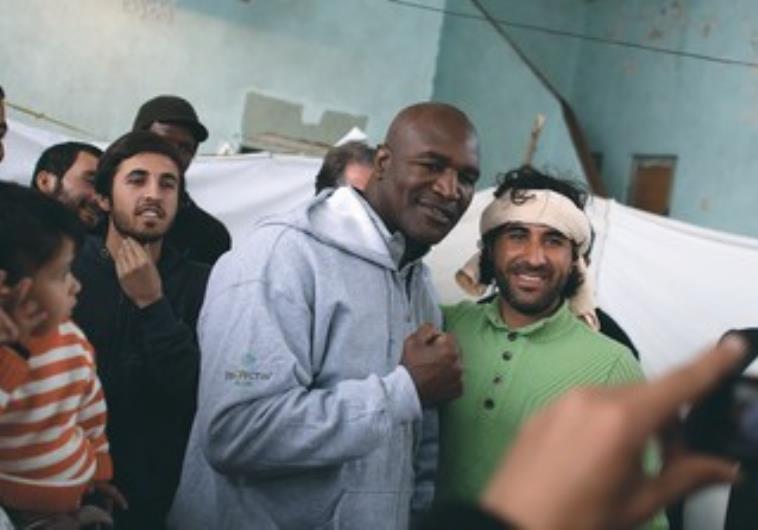 'Jewish Schindler,' ex-boxer team up to aid Syrian refugees
March 27, 2015
In a Skype interview with The Jerusalem Post, Barry said, "They call me Schindler," in a reference to the Bulgarian media, which dubbed him Oskar Schindler after the famous non-Jewish German industrialist who rescued Jews during the Holocaust.
"I'm far from Schindler, but if that is what it takes…" added Barry about his efforts to help Syrians who have escaped the bloody civil war in their country.
For Barry, who was born Gerald Barry Falovitch in Montreal, Bulgaria has a deeply personal connection. He said "two cousins escaped to Bulgaria" during the Holocaust."
Barry has connections to Israel. At the age of 16, he said, "I took my guitar" and ran away to a kibbutz and stayed in the Jewish state between 1964- 1966. He performed music at the Minus 206 Club on the Sea Of Galilee.
"He is my angel," said Mahmoud, a Syrian refugee in Sofia, about Barry. The 39-year-old Syrian just moved into a private hotel with his wife and three children. Private landlords declined to rent rooms to Syrians, so the innovative Barry located well-kept empty hotels for the refugees. Barry stressed the "Bulgarian government is being super cooperative" with his work, but the "the EU has sort of neglected" the massive refugee crisis in Bulgaria.
He spent a million dollars for the relocation of over 50 Syrian families.
There are currently more than 6,500 Syrian refugees in Bulgaria, and the number is expected to climb to 15,000 by year's end. There are currently over nine million displaced Syrians from a total population of 23 million. More than 2 million Syrians have fled the war-scarred country to Iraq, Bulgaria, Egypt, Lebanon, Jordan and Turkey.
Mahmoud, who cannot be identified by his real name because he has remaining family members in regime-controlled Syria, said he protested in 2011 against the "dictator Assad" because he wanted freedom.
Syrian President Bashar Assad's immediate response to peaceful dissent was to violently crack down on it. Syrian security forces arrested Mahmoud and tortured him in two prisons.
They "hanged me from my feet for 8 hours," he said. He described seeing "hell" during his imprisonment in Assad's notorious jails.
When asked who is responsible for the Syrian civil war, Mahmoud said "Iran is sending money" to Assad. In addition to Assad, he placed the blame for the war on the terrorist groups Hezbollah and al-Qaida, Russia and the Islamic Republic of Iran. "All together they kill the Syrian people," said Mahmoud.
Mahmoud broke down in tears when describing Assad's forces, who raped his wife and stole the family's possessions.
Mahmoud, who knows that Yank is Jewish, stressed: "I don't hate Israel and Jews. All of humans is one family."
Barry said "it is a nice thing for Judaism and Israel to show we are there for them [Syrian refugees]."
However, one Palestinian family in the Bulgarian camp declined Barry's offer of assistance because he's Jewish.
Holyfield, widely considered one of the world's greatest boxers and former undisputed heavyweight champion, said "people copy people" about his motivation to spur new aid for struggling Syrians.
"Somebody helped me, and that gives me the opportunity to help someone else," noted Holyfield, who serves as an international goodwill ambassador for Barry's NGO Global Village Champions Foundation.
He said the refugees did not choose their situation, and he hopes that his popularity will attract more help.
Holyfield took over last year from Muhammad Ali – a close friend of Barry – who served as the goodwill ambassador but is now too ill to continue.
Ali and Barry jointly launched the foundation in 1995, and it has provided more than 900 million meals to starving people across the globe. Barry just sent five million meals to the victims of Typhoon Haiyan in the Philippines.
Over 120,000 people have been killed since the spring of 2011 in Syria.
The high-energy Barry plans to continue with his humanitarian work. He has been nominated three times for the Nobel Peace Prize.