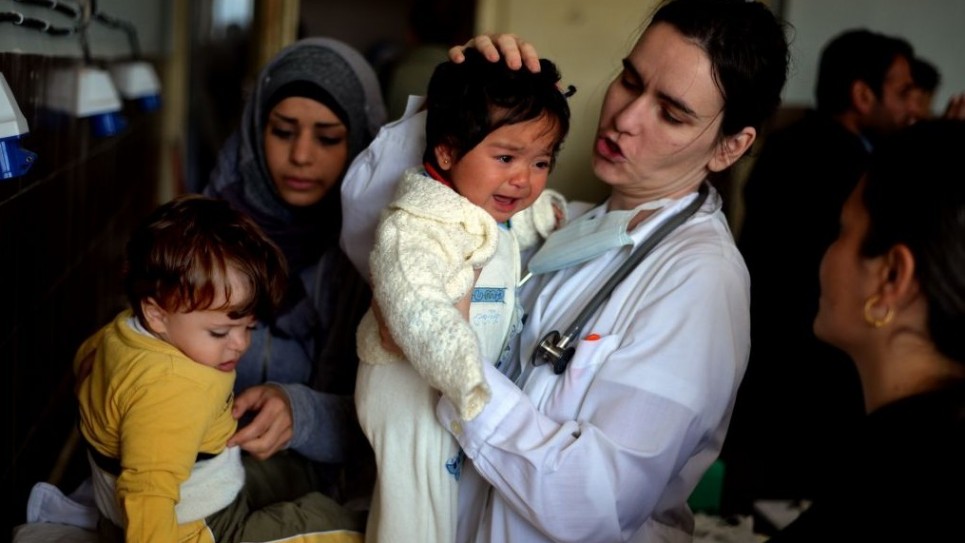 ews help Syria's innocent victims in Bulgaria
March 27, 2015
Living as squatters in the makeshift trailer park that serves as a camp for new arrivals, Yantar's family were forced to brave low winter temperatures with only outdoor fires to keep them warm.
Unable to handle the growing number of refugees, the Bulgarian authorities are helpless to offer anything more than overcrowded camps in poor condition with little medical care or food.
"We count on external assistance," admitted Bulgarian Prime Minister Plamen Oresharski during a meeting with Jewish Canadian philanthropist, pop musician/jingle writer Yank Barry on November 13. Driven by personal ties to Bulgaria and his humanitarian mission, Barry is among the most recent contributors to join the relief effort to aid the Syrian refugees in Bulgaria, the European Union's least wealthy member.
Recently, Yantar, his wife and three children, moved to a private hotel. Their rent for the next six months is paid for by the Global Village Champions Foundation, co-founded by Barry and famous boxer Muhammad Ali, which is spending $1 million to help fund the housing of 50 refugees. Superstar boxer Evander Holyfield accompanied Barry on this recent trip.
"I don't know why I'm the one leaving the camp, but I have three children and my wife is pregnant. This is a chance for us," Yantar told a local TV station after exiting Harmanli.
Bulgaria is now home to almost 10,000 refugees, 70 percent of whom are Syrian, according to latest data from the Interior Ministry. This may be a relatively small number within the overall Syrian humanitarian crisis, but it is triple the annual average the country used to receive.
"When we set out for here we knew that the people and the police were good. But when we arrived we didn't feel it. They don't think we are people. Why are they accepting us?" a woman said to a local TV crew, complaining about the inhumane conditions.
One of the main problems for the Syrian refugees in Bulgaria is finding a place to stay. The state offers only temporary lodgings in very modest conditions until the asylum procedure is completed. After that, the newcomers, often with little resources to support themselves, are on their own.
But even if they have money, renting is a problem.
"It is almost impossible to find accommodation. Owners refuse to have their property rented by refugees," says Lydia Staykova, a Bulgarian volunteer, who is leading the relief efforts in the town of Haskovo.
People who can no longer stay in the camps are those targeted by Barry's charity campaign.
"We also check their police records. We don't want to get out somebody connected with al-Qaeda or Hezbollah! That won't be good for anybody," Barry told the Trud newspaper in an interview.
The philanthropist says he identifies with the plight of Syrian refugees, who like Jews in the 1940s, became innocent victims.
"They are people. They are good people. I will continue to do as much as I can to help," says Barry, who also has a personal connection with Bulgaria: Two of his cousins escaped the Nazis in Belarus and found safe heaven in the Balkan country.
It is a little known fact that despite being an ally of Hitler during World War II, Bulgaria saved tens of thousands of Jews during the Holocaust in a collective effort from the state, church and society.
This year Jews in Bulgaria marked the 70th anniversary of their rescue. To commemorate the occasion and to honor the victims of the Holocaust, the Organization of Jews in Bulgaria, Shalom, started a campaign in August dubbed "Make good," which offers free medical check-ups to people in need. Shalom has also discretely organized doctor visits for the Syrian refugees, most of whom are women and children.
Teaming up with the Alexandrovska Hospital, Shalom is providing special prescription glasses for young Syrians and giving out sweet treats. The medical personnel, which includes two long time Syrian expats in Bulgaria, is touring the refugee camps on a weekly basis. The hospital is also providing two ambulances with special equipment.
During one of the visits, two children were diagnosed with diabetes and special medication will be arranged.
"In the beginning the conditions were awful. But now we see things are getting better – we have food. We really thank Bulgaria for what it does for us," Rafa Ghanam, a Syrian refugee, told the TV station BNT.
Back in the private hotel, rented in the outskirts of the capital city Sofia, several families are preparing for their new life. In addition to free food and accommodation, Global Village Champions Foundations is offering lessons in Bulgarian.
One of the families, which has 17 members, was forced to live in a room designed to house only four. Their "rescue" was not planned, Barry says.
"It was a spur of the moment decision. We were able to accommodate the family, and I decided to do it and I am so happy I did," said Barry. "The kids had smiles on their faces. That was incredible."
Little did Barry know, but the family of 17 are the relatives of Ali, who gained some fame in the Bulgarian media after being stabbed in the back by an alleged skinhead on November 4.
The incident was triggered by a hit and run attack on a 20-year old Bulgarian shop clerk by an Algerian boy, which led to a wave of anti-immigrant violence across the country. Ali is still in the hospital and awaits to join his family in the hotel provided by Barry.
'The difference between here and the camps is like heaven and hell'
"The difference between here and the camps is like heaven and hell," a female relative of Ali told a local TV news crew.
And soon more Jews could be joining the effort to handle the refugee wave in Bulgaria: The Mossad, Israeli national intelligence agency, will be helping Bulgarian authorities in identifying potential threats among the refugees, Interior Minister Tsvetlin Yovchev said in a statement after meeting Israeli Foreign Minister Avigdor Lieberman in Israel last week.
Barry, who has relocated several dozen Syrians in Bulgaria, promises he will continue his charity campaign next time he returns to the country.
"I will rent three or four more hotels, until I run out of money, if needed," Barry said while leaving the Harmanli camp. "For me life is mitzva – a good deed in the name of God," the Jewish philantropist told BNT television.