VITAPRO produces three different flavors of its meat substitute:
Burger mix
Beef flavor
Chicken flavor
FOR MORE INFO PLEASE VISIT
www.propectin.com
Montreal born Yank Barry had already made his mark in the music industry as a successful singer, composer, arranger, mixer, publisher and producer when he was inspired to take a serious look at the food industry.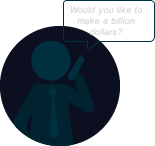 During a golf tournament in South Africa, …
A gentleman approached Yank with a money making proposition. He came up to Yank out of the blue, having heard about him from a mutual friend, wanting Yank to distribute his product in North America. That evening a room service tray was delivered to Yank with a selection of entrees on it. After Yank finished sampling each dish, he received a call inquiring how he liked the food and then; "Would you like to make a billion dollars?" Yank replied, "Of course I would!" The gentleman brought a box of samples to Yank's hotel room. Yank returned home with these samples and began to investigate the possibilities.
The boxes contained a strange-looking powdered mixture, which once cooked, had the taste and consistency of meat. Yank begins to imagine the tremendous earning potential of a product that is inexpensive to produce and has none of the refrigeration and preparation problems associated with fresh meat. He envisions almost unlimited potential. Here was a food product that was high in fibre, protein and nutrients that did not require refrigeration and did not produce grease as a by-product during preparation. There was only one catch, and it was a deal breaker.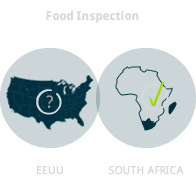 Upon returning to North America…
Yank exercises his option for the rights to this product for worldwide distribution. Amid the excitement, a dark cloud appears in the form of shocking news. The product, after further investigation, is replete with animal by-products. The product was not as advertised and Yank was deeply disappointed. This formula might have passed inspection in South Africa but it would not meet the expectations of the North American consumers or food inspectors. Yank was convinced that a vegetable based product free of animal by-products has tremendous potential. With a clear vision of the potential for a vegetarian product Yank plunges head on into research and development. Through an American friend in the food industry, he inquired about the possibilities of removing the animal by-products from the product. If this could be achieved, Yank knew that he would have a very hot property on his hands because the product has such amazing features.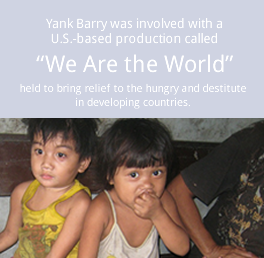 Some years ago, …
Yank says he was disturbed by the poor quality of the food that was sent to Africa. He took it upon himself to inspect the cargo of a ship leaving New York harbor and quickly noticed that it was no longer fresh and not at all appetizing. "The show's promoters had the intentions", he says, "but they weren't very good at managing things".
He also notes that often goods sent to help relief organizations in developing countries are "cannibalized" by various middle-men, even under the United Nations control, the risk is high. "The UN are great as peace-keepers, but they're not very efficient when it comes to food distribution", he adds.
A vehicle to sell his textured vegetable protein meat substitutes. His first client was the Mexican Military. They immediately saw the benefits of using such a low-cost, easy-to-prepare, easily stored, transported and nutritious product. By 1995, three plants are set up to meet demand: Redford, England, Albion, New York, and Pointe-Claire, Quebec. Eventually, VITAPRO products would be sold in more than 50 countries and are used by food catering services, university cafeterias, hospitals, military, restaurants, hotels and correctional facilities. In fact, VITAPRO is a staple in a variety of industries and institutions where cost effective and nutritious products are needed to feed large groups of people.
Global Village Foundation…
Due to the strength of and established track record of VITAPRO Yank sees an opportunity to contribute to the fight against world hunger and misery. To achieve his objectives, Yank and his long-time friend Muhammad Ali created the philanthropic foundation known as Global Village Champions. The credibility of the Champions goes a long way to opening doors that facilitate the distribution of food to where it is needed most, while eliminating corruption. Yank and Global Village Champions Foundations' active involvement with humanitarian causes has enabled the company to send massive food shipments, as well as clothing, medicine and medical supplies to the needy around the World.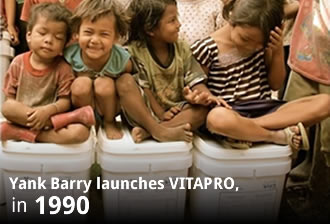 The results came in: a dehydrated, protein-rich soy-based product, totally devoid of any trace of animal by-products. Finally, Yank's dream had become a reality. A dream that the Pasteur Institute in France calls "The Food of the Future"…
Once reconstituted by adding a measured amount of water, the VitaPro mixes taste exactly like meat and have the same texture. They contain no meat or meat by-products whatsoever.
With the exception of offering VitaPro products to consumers via a brief foray into the network marketing industry, VitaPro has remained a premier institutional product.

The Global Village Champions including Celine Dion and her husband Rene Angelil, Mike Tyson, Manny Pacquiao, Michael Johnson (Olympic Double Gold Medallist), Ben E. King (Stand by Me, Under the Boardwalk), Gary U.S. Bonds (Quarter to Three), Astronaut Buzz Aldrin, 5 time World Heavyweight Champion Evander Holyfield and hockey hall of fame superstar Guy Lafleur, among others, are led by "The Greatest", 3 time heavy weight champion, Muhammad Ali.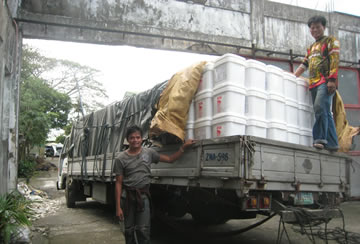 The creation of Global Village Champions was a unique and successful effort by Mr. Barry. The purpose was to develop a method of delivering nutritious, easy to use products to areas impacted by disaster and at the same time increasing the knowledge of VitaPro products by non-governmental agencies such as C.A.R.E and the International Red Cross. Although Yank's desire to contribute meals to the hungry was viewed in a positive light, he had difficulty in getting agencies to distribute the food in the field.
The emergence of the Champions, especially Muhammad Ali, quickly inspired others and enabled Mr. Barry to educate agencies on the benefits of his products and thereby gaining acceptance and mass distribution.
Muhammad Ali comes "on board"…
The day Muhammad Ali set foot in the Ivory Coast to escort one of the first major shipments by Global Village Champions, a huge crowd had gathered to cheer him over a distance of seven kilometers. Yank Barry was dumbfounded. "By coming on board, Ali made the whole difference", Yank points out. "The former boxing great, although suffering from Parkinson's syndrome, opened all the right doors. How can any government or relief organization refuse to meet with such a man?"
TO DATE

Meals as well as medical supplies and other essential items have been provided to hungry people around the World by Global Village Champions Foundation.
They have provided desperately needed food relief in:
Afghanistan
Cambodia
Grenada
Laos
Poland
Thailand
Albania
Canada
Guatemala
Lebanon
Pakistan
Toga
Algeria
Cayman Islands
Guyana
Liberia
Peru
Tunisia
Angola
Chad
Haiti
Cote D'Ivoire
Philippines
Turkey
Argentina
Chile
Honduras
Libya
Republic Of Buryatia
Uganda
Armenia
China
India
Malawi
Republic Of Congo
Ukraine
Australia
Colombia
Indonesia
Macedonia
Republic Of South Africa
UK
Benin
Cote D'Ivoire
Iran
Malaysia
Romania
USA
Bahamas
Croatia
Iraq
Malta
Russia
Venezuela
Bangladesh
Cuba
Japan
Mexico
Rwanda
Belorussia
Egypt
Jamaica
Mongolia
Serbia
Bhutan
El Salvador
Kazakhstan
Morocco
Sierra Leone
Bolivia
Estonia
Kenya
Mozambique
Slovenia
Bosnia
Ethiopia
Korea
Nicaragua
South Korea
Botswana
Fiji
Kosovo
Niger
Sri Lanka
Bulgaria
Gambia
Kuwait
Nigeria
Sudan
Burma
Georgia
Kyrgyzstan
North Korea
Republic Of Congo
Burundi
Ghana
Latvia
Oman
The Netherlands